Snap, I don't recognize anyone anymore.
Actually, I almost forgot that that's where I came from. Weird. So, went out to the big Darkhan sign and took pretty pictures.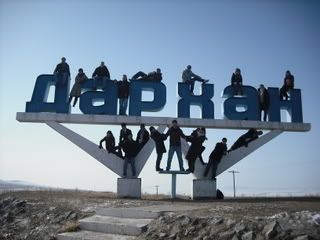 Went out and looked at camels, and one of them was foaming at the mouth and growling at everything. Asked the herdsman what that meant and he said he didn't know because he had never seen it happen before. Yup. . . (we prefer fun non-growling camels)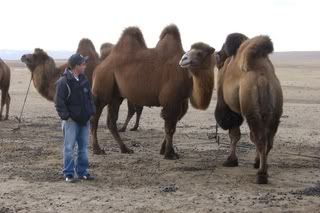 Transfer calls happened, one of the ZLs and a new missionary left. Myagmarjav (Migaa for short, the ZL) has this thing for smashing people in the face with cake on their birthdays; he's gotten half the people in the mission I think. SO we decided for his last day to get him back. We set up a fake one at the church, turned out all the lights in the chapel and tripped him up at the podium. He squealed like a little girl. Then the lights came back on and we just sang to him. Then he calmed down. What he didn't know was that right after that the DL and I snuck into his apartment. The video tells the rest better.
But for one thing, originally we were just going to stick it lightly on his face, but I think muscle memory got away from me a little and I punched him with a pair of cake-knuckles.
And then, picked up a way sweet family and we have a way good investigator who has a solid date for 3/20. She's changed so much in the 1 1/2 months we've been meeting with her.
Stuff, I dunno, I can't think good no more. I can't speak reasonable words anymore. You can't say that [Mom: no idea what that is] in English but I'm too lazy to fix it. And then, yeah … Greetings to people, you know who you are. If you live in Arizona and know Sister Tsenglee, say hi.